Governors
Federation of Boldmere Schools Governing Body
Mr Carl Glasgow - Executive Headteacher - The Federation of Boldmere Schools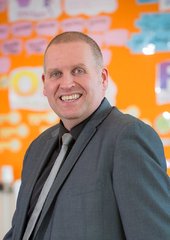 It is an absolute privilege and pleasure to be the Exec HT of our wonderful schools. It is essential for us to ensure that your children's experiences at school are enjoyable and that they have a seamless blend of education from Nursery to Year 6. The governing board fulfil an essential strategic role at our schools and work in collaboration with the Leadership Team to drive school improvement and ensure they meet their core objectives. We are incredibly fortunate to have such a committed and skilled Governing Board who provide me with enormous support and appropriate challenge as a great 'critical friend'.
I have been fortunate to be at the schools since 2008, firstly as the Junior School Headteacher and from 2016 in my current role as Exec HT. I continue to have a relentless drive to ensure the children at our schools are the best they can be and I am immensely proud to work in such a wonderfully supportive community such as Boldmere.
Mrs Samantha Kenny – Head of Infant and Nursery School
There is something very special about working in an infant school. We are responsible for ensuring that your child's first experiences at school are positive, enjoyable and foster a love of learning .Our beautiful school environment provides safe spaces for children to learn and grow and our incredibly committed staff provide support for this to happen. I am proud to say that I have been at Boldmere for 12 years and Head of School for 4 of those years. The Governing Board has supported me throughout this time by providing challenge as well as support, and I am pleased to be part of the Leadership of Boldmere schools.
Mr Matt Sadler - Head of Junior School
It is a privilege to serve and represent the community of Boldmere in my role as head of the junior school, a position I took up in January 2022. I understand fully that children get only one shot at their education and that it's the 'what we do now' that will play a huge role in their future success. The school's vision statement could not resonate with me any truer which is why I will work relentlessly to ensure my team do their upmost to empower ALL children to achieve their best, not only academically but also emotionally, physically and socially too. I am also a firm believer that the best outcomes for children are achieved through mutual respect and collaboration with all stakeholders. This naturally includes parents but also the Governing body where collectively we will work to ensure the ethos and strategic direction of the school is befitting for the families we serve.
Mrs Karen Welch – Assistant Head Teacher of Junior School
I am very proud to be the Assistant Head Teacher for Boldmere Junior School and part of my role is to work closely with the Governors. It is a privilege to be part of the Governing Board and work with committed and supportive individuals who care about our pupils and the school community. I have been part of the Boldmere Junior school teaching staff for 14 years and I am passionate about ensuring that each child receives the best possible education with the children at the heart of the decisions we make.
Mr Greg Bloom - Chair of Governors
I have been a Governor for the last 7 years and been the Chair of Governors for the last 3 years. I work in a leadership and management role within the NHS and these career experiences provide transferable skills to carry out the core functions of a governor.
I have 1 child in the junior school and 1 child has just left for secondary school. It is a privilege to be a governor and support these Outstanding schools.
Mr Dan Mortiboys - Vice Chair of Governors
I currently have a senior finance role in the NHS. I have previously worked as a Head of Schools Finance for a local council, a CFO of a national multi academy trust and been the executive lead for finance, HR and a broad portfolio for a local Children's Trust. Both my daughters have been at Boldmere from nursery school with my youngest still at the junior school. I joined the Governing Body in 2017 and I am currently Chair of the Finance and Facilities Committee and Vice Chair of the FGB.
Miss Ema Jackson - Staff Governor
I am extremely proud to have been a class teacher at Boldmere Junior School for the past 11 years. I am in a unique position on our governing body: the role of staff governor offers me an opportunity to make a real contribution to the strategic management of the school whilst ensuring staff are represented across both schools. As a member of the governing body, I am passionate about ensuring that the provision and education of each and every child is the best it can possibly be, working hard to ensure that we achieve high standards of educational achievement allowing every child to reach their full potential whilst here at Boldmere. For me, it has always been important that the Boldmere Federation is more than just a place of learning. It's a community that we can all be proud of.
Mrs Laura Shergold
I was appointed Parent Governor in July 2021. I have a background in education and communications, which I hope will help me only strengthen the school's governing body. I am a member of the Education Standards Committee. My son is currently in Year 3 at Boldmere Junior School. In my role as governor I have a special responsibility of bring Communications Link Governor.
Mr Jeremy Merckel
I have lived in Boldmere for over 15 years and my three children are all past or present Boldmere School pupils. I joined the Governing Board in 2017 as I wanted to play a more active role in the school community and was recently elected to serve a second four-year term. I am responsible for the Board's communications and I also sit on the Education and Standards Committee. I am a marketing director for a large automotive services business, a volunteer for the Sutton Games and a keen cyclist. In my role as governor I have a special responsibility of bring Communications Link Governor.
Mrs Holly Birkett
I have two sons at Boldmere School and an education background as a lecturer and researcher at the University of Birmingham. I am an Associate Governor and part of the Full Governing Board and the Education and Standards Committee. I have also recently taken over as the EYFS Governor responsible for supporting Boldmere's EYFS provision for our Nursery and Reception children, which has been updated in line with new government guidelines. I am excited to get more involved with how at Boldmere we promote learning through play in those Early Years.
Outside of work two young boys keep me busy but I still enjoy travelling (when possible!) and film. In my role as governor I have a special responsibility of bring Safeguarding & EYFS Link Governor.
Mrs Roxy Willis
Recently appointed co-opted governor but previously associate governor and member of finance committee since May 2019. A qualified chartered accountant currently working as a finance director in the property sector, these skills help support the school's governance when dealing with budgets and financial decision making. In my role as governor I have a special responsibility of bring Training Link Governor.
Mrs Nicola Arkinstall
I have been a Co-opted Governor at Boldmere for the last 7 years and I am currently the chair of the Education and Standards Committee. Both of my daughters have enjoyed their primary school education at Boldmere School from the Nursery. My oldest daughter has just started secondary school and my youngest daughter is in the juniors. I have been a senior leader in education for over 15 years and I am passionate about ensuring we provide the best possible education to all the children in our care. In my role as governor I have a special responsibility of bring SEND Link Governor.
Mrs Tara Morton
I was appointed associate Governor in December 2021 and have been supporting the Education & Standards Committee and the Full Governing Board. My responsibilities within the governing board is to offer advice and support around EYFS.
Currently I am employed as a School Liaison Officer for the Refugee and Migrant Centre based in Wolverhampton where I support newly arrived families with school related issues such as admissions, uniform and transport. My remit will be extended to include teaching ESOL to new arrivals in Birmingham. My current role fits both my academic and professional history as I completed a degree in Childhood and Family Studies & Sociology before entering the education sector as an Early Years Lecturer at Stafford College. Furthermore, I am finishing my MA in Applied Social Science at the University of Wolverhampton.
I am also a Mum of two, my eldest daughter is in secondary school and my younger daughter is currently in year 3 at Boldmere School. She had a fantastic learning experience at the infant's school and is very much enjoying her first year in juniors.